Displaying posts from your brand Instagram channel and the posts mentioning or tagging your account requires you to create an Instagram business account and connect it with your Facebook Page.
What is an Instagram business account?
The Instagram business account works just like a normal account but enables you to enrich your profile information and get more insights on the audience. Within the Instagram app, find Settings, then scroll down to Switch to the business account. When you have a business account, you can add pertinent business information such as opening hours, a business address or a phone number.
How do I connect my Instagram business account to Facebook Page?
On Facebook Page, click Settings and then Instagram on the left. Follow the instructions on the page to connect your Instagram business account.
How do I create an Instagram Mentions feed on Flockler?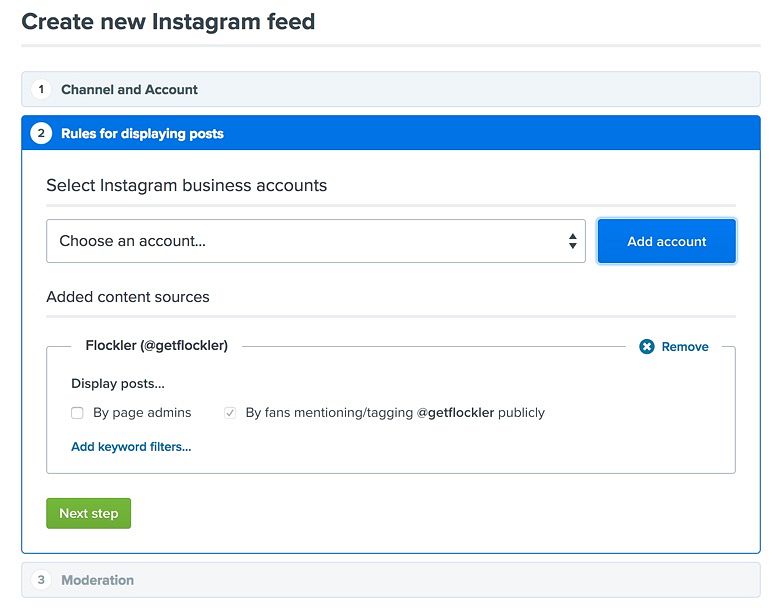 Creating a feed with Instagram Mentions is as simple as any other automated feed on Flockler. Here'a a step-by-step guide: 
Login to Flockler and click 'Automated Feeds'.

Select a channel: Instagram.
Select "Get posts by or mentioning / tagging my business account".
Connect your Facebook account (connected to your Instagram Business account).
Select the Instagram account from the dropdown and if you'd like to display your posts and mentions/tags of your account.
Save feed.
In addition to automated social media feeds, you can also store content for moderation and pick content one-by-one.